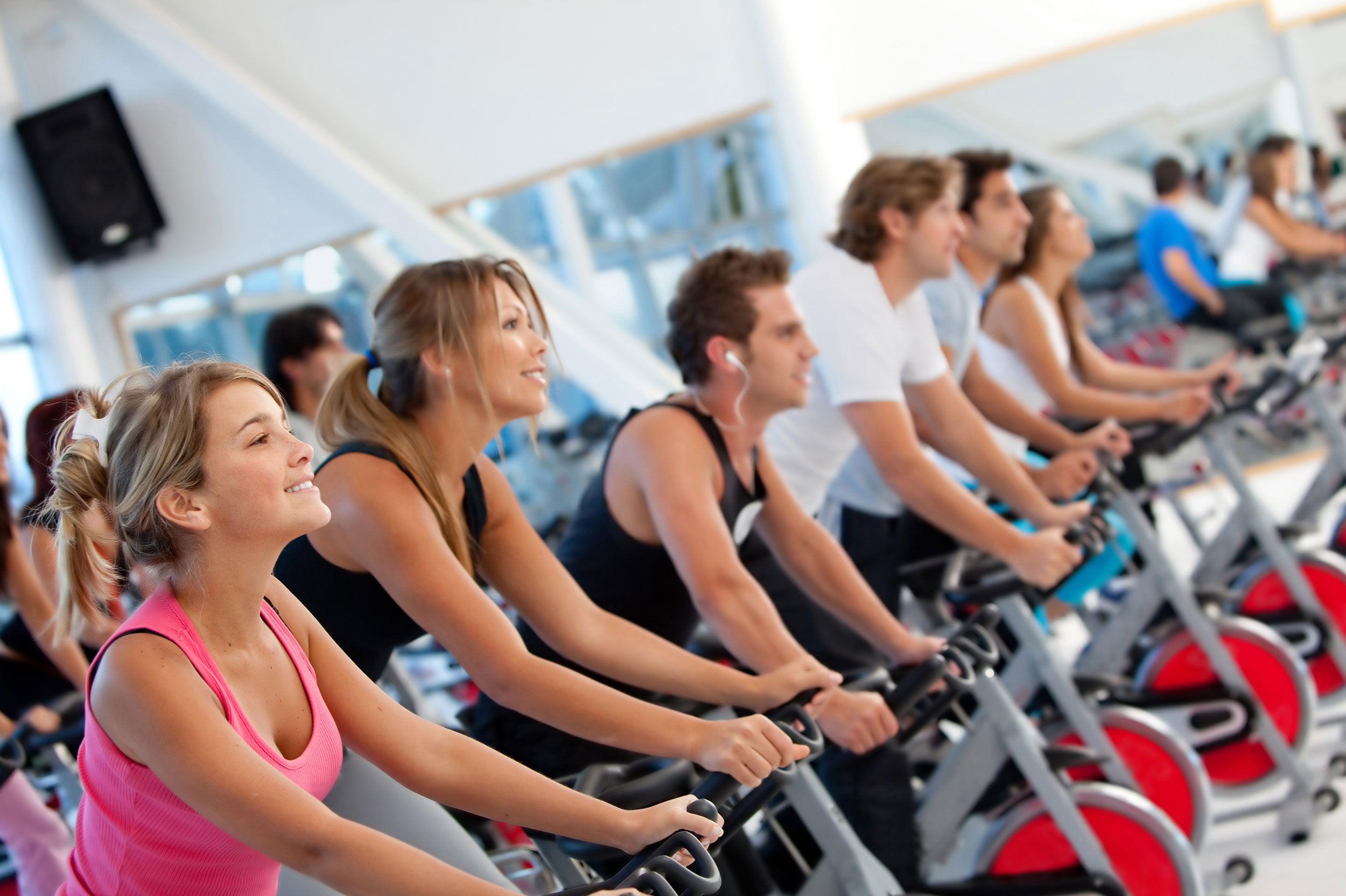 Group Cycling
Activity: Cycling, Indoor Cycling
Date:
Wednesday 4 October 2023
Organiser:
Everyone Active
Location:
Peckham Pulse Healthy Living Centre | 10 Melon Road, London, SE15 5QN
Description
On yer bike! Calorie killing at it's best without the stress of any complicated moves. Great music, motivational instructors and a chance to burn up to 450 calories per half hour will complete your journey to calorie burning heaven.
Contact Details
Phone number:
01455 890508
Dates
-1
https://www.google.com/maps/embed/v1/place?key=AIzaSyDqiyfwpa3z37UHIYf-eEVWh6FGa6XFvik&q=
Wednesday 4 October 2023
12:00 - 12:45
https://www.everyoneactive.com/centre/Peckham-Pulse-Healthy-Living-Centre#activities
0
October
Wednesday
04
12:00 - 12:45
18
https://www.google.com/maps/embed/v1/place?key=AIzaSyDqiyfwpa3z37UHIYf-eEVWh6FGa6XFvik&q=
Thursday 5 October 2023
10:15 - 11:00
https://www.everyoneactive.com/centre/Peckham-Pulse-Healthy-Living-Centre#activities
0
October
Thursday
05
10:15 - 11:00
18
https://www.google.com/maps/embed/v1/place?key=AIzaSyDqiyfwpa3z37UHIYf-eEVWh6FGa6XFvik&q=
Friday 6 October 2023
09:15 - 10:00
https://www.everyoneactive.com/centre/Peckham-Pulse-Healthy-Living-Centre#activities
0
October
Friday
06
09:15 - 10:00
18
https://www.google.com/maps/embed/v1/place?key=AIzaSyDqiyfwpa3z37UHIYf-eEVWh6FGa6XFvik&q=
Friday 6 October 2023
18:00 - 18:45
https://www.everyoneactive.com/centre/Peckham-Pulse-Healthy-Living-Centre#activities
0
October
Friday
06
18:00 - 18:45
18
https://www.google.com/maps/embed/v1/place?key=AIzaSyDqiyfwpa3z37UHIYf-eEVWh6FGa6XFvik&q=
Saturday 7 October 2023
09:15 - 10:00
https://www.everyoneactive.com/centre/Peckham-Pulse-Healthy-Living-Centre#activities
0
October
Saturday
07
09:15 - 10:00
18
https://www.google.com/maps/embed/v1/place?key=AIzaSyDqiyfwpa3z37UHIYf-eEVWh6FGa6XFvik&q=
Saturday 7 October 2023
10:30 - 11:15
https://www.everyoneactive.com/centre/Peckham-Pulse-Healthy-Living-Centre#activities
0
October
Saturday
07
10:30 - 11:15
18
https://www.google.com/maps/embed/v1/place?key=AIzaSyDqiyfwpa3z37UHIYf-eEVWh6FGa6XFvik&q=
Monday 9 October 2023
10:45 - 11:30
https://www.everyoneactive.com/centre/Peckham-Pulse-Healthy-Living-Centre#activities
0
October
Monday
09
10:45 - 11:30
18
https://www.google.com/maps/embed/v1/place?key=AIzaSyDqiyfwpa3z37UHIYf-eEVWh6FGa6XFvik&q=
Monday 9 October 2023
18:15 - 19:00
https://www.everyoneactive.com/centre/Peckham-Pulse-Healthy-Living-Centre#activities
0
October
Monday
09
18:15 - 19:00
18
https://www.google.com/maps/embed/v1/place?key=AIzaSyDqiyfwpa3z37UHIYf-eEVWh6FGa6XFvik&q=
Monday 9 October 2023
19:15 - 20:00
https://www.everyoneactive.com/centre/Peckham-Pulse-Healthy-Living-Centre#activities
0
October
Monday
09
19:15 - 20:00
18
https://www.google.com/maps/embed/v1/place?key=AIzaSyDqiyfwpa3z37UHIYf-eEVWh6FGa6XFvik&q=
Tuesday 10 October 2023
09:15 - 10:00
https://www.everyoneactive.com/centre/Peckham-Pulse-Healthy-Living-Centre#activities
0
October
Tuesday
10
09:15 - 10:00
18
https://www.google.com/maps/embed/v1/place?key=AIzaSyDqiyfwpa3z37UHIYf-eEVWh6FGa6XFvik&q=
Wednesday 11 October 2023
12:00 - 12:45
https://www.everyoneactive.com/centre/Peckham-Pulse-Healthy-Living-Centre#activities
0
October
Wednesday
11
12:00 - 12:45
18
https://www.google.com/maps/embed/v1/place?key=AIzaSyDqiyfwpa3z37UHIYf-eEVWh6FGa6XFvik&q=
Thursday 12 October 2023
10:15 - 11:00
https://www.everyoneactive.com/centre/Peckham-Pulse-Healthy-Living-Centre#activities
0
October
Thursday
12
10:15 - 11:00
18
https://www.google.com/maps/embed/v1/place?key=AIzaSyDqiyfwpa3z37UHIYf-eEVWh6FGa6XFvik&q=
Friday 13 October 2023
09:15 - 10:00
https://www.everyoneactive.com/centre/Peckham-Pulse-Healthy-Living-Centre#activities
0
October
Friday
13
09:15 - 10:00
18
https://www.google.com/maps/embed/v1/place?key=AIzaSyDqiyfwpa3z37UHIYf-eEVWh6FGa6XFvik&q=
Friday 13 October 2023
18:00 - 18:45
https://www.everyoneactive.com/centre/Peckham-Pulse-Healthy-Living-Centre#activities
0
October
Friday
13
18:00 - 18:45
18
https://www.google.com/maps/embed/v1/place?key=AIzaSyDqiyfwpa3z37UHIYf-eEVWh6FGa6XFvik&q=
Saturday 14 October 2023
09:15 - 10:00
https://www.everyoneactive.com/centre/Peckham-Pulse-Healthy-Living-Centre#activities
0
October
Saturday
14
09:15 - 10:00
18
https://www.google.com/maps/embed/v1/place?key=AIzaSyDqiyfwpa3z37UHIYf-eEVWh6FGa6XFvik&q=
Saturday 14 October 2023
10:30 - 11:15
https://www.everyoneactive.com/centre/Peckham-Pulse-Healthy-Living-Centre#activities
0
October
Saturday
14
10:30 - 11:15
18
https://www.google.com/maps/embed/v1/place?key=AIzaSyDqiyfwpa3z37UHIYf-eEVWh6FGa6XFvik&q=
Monday 16 October 2023
10:45 - 11:30
https://www.everyoneactive.com/centre/Peckham-Pulse-Healthy-Living-Centre#activities
0
October
Monday
16
10:45 - 11:30
18
https://www.google.com/maps/embed/v1/place?key=AIzaSyDqiyfwpa3z37UHIYf-eEVWh6FGa6XFvik&q=
Monday 16 October 2023
18:15 - 19:00
https://www.everyoneactive.com/centre/Peckham-Pulse-Healthy-Living-Centre#activities
0
October
Monday
16
18:15 - 19:00
18
https://www.google.com/maps/embed/v1/place?key=AIzaSyDqiyfwpa3z37UHIYf-eEVWh6FGa6XFvik&q=
Monday 16 October 2023
19:15 - 20:00
https://www.everyoneactive.com/centre/Peckham-Pulse-Healthy-Living-Centre#activities
0
October
Monday
16
19:15 - 20:00
18
https://www.google.com/maps/embed/v1/place?key=AIzaSyDqiyfwpa3z37UHIYf-eEVWh6FGa6XFvik&q=
Tuesday 17 October 2023
09:15 - 10:00
https://www.everyoneactive.com/centre/Peckham-Pulse-Healthy-Living-Centre#activities
0
October
Tuesday
17
09:15 - 10:00
18
https://www.google.com/maps/embed/v1/place?key=AIzaSyDqiyfwpa3z37UHIYf-eEVWh6FGa6XFvik&q=
Wednesday 18 October 2023
12:00 - 12:45
https://www.everyoneactive.com/centre/Peckham-Pulse-Healthy-Living-Centre#activities
0
October
Wednesday
18
12:00 - 12:45
-1
https://www.google.com/maps/embed/v1/place?key=AIzaSyDqiyfwpa3z37UHIYf-eEVWh6FGa6XFvik&q=
Thursday 19 October 2023
10:15 - 11:00
https://www.everyoneactive.com/centre/Peckham-Pulse-Healthy-Living-Centre#activities
0
October
Thursday
19
10:15 - 11:00
-1
https://www.google.com/maps/embed/v1/place?key=AIzaSyDqiyfwpa3z37UHIYf-eEVWh6FGa6XFvik&q=
Friday 20 October 2023
09:15 - 10:00
https://www.everyoneactive.com/centre/Peckham-Pulse-Healthy-Living-Centre#activities
0
October
Friday
20
09:15 - 10:00
-1
https://www.google.com/maps/embed/v1/place?key=AIzaSyDqiyfwpa3z37UHIYf-eEVWh6FGa6XFvik&q=
Friday 20 October 2023
18:00 - 18:45
https://www.everyoneactive.com/centre/Peckham-Pulse-Healthy-Living-Centre#activities
0
October
Friday
20
18:00 - 18:45
-1
https://www.google.com/maps/embed/v1/place?key=AIzaSyDqiyfwpa3z37UHIYf-eEVWh6FGa6XFvik&q=
Saturday 21 October 2023
09:15 - 10:00
https://www.everyoneactive.com/centre/Peckham-Pulse-Healthy-Living-Centre#activities
0
October
Saturday
21
09:15 - 10:00
-1
https://www.google.com/maps/embed/v1/place?key=AIzaSyDqiyfwpa3z37UHIYf-eEVWh6FGa6XFvik&q=
Saturday 21 October 2023
10:30 - 11:15
https://www.everyoneactive.com/centre/Peckham-Pulse-Healthy-Living-Centre#activities
0
October
Saturday
21
10:30 - 11:15
-1
https://www.google.com/maps/embed/v1/place?key=AIzaSyDqiyfwpa3z37UHIYf-eEVWh6FGa6XFvik&q=
Monday 23 October 2023
10:45 - 11:30
https://www.everyoneactive.com/centre/Peckham-Pulse-Healthy-Living-Centre#activities
0
October
Monday
23
10:45 - 11:30
-1
https://www.google.com/maps/embed/v1/place?key=AIzaSyDqiyfwpa3z37UHIYf-eEVWh6FGa6XFvik&q=
Monday 23 October 2023
18:15 - 19:00
https://www.everyoneactive.com/centre/Peckham-Pulse-Healthy-Living-Centre#activities
0
October
Monday
23
18:15 - 19:00
-1
https://www.google.com/maps/embed/v1/place?key=AIzaSyDqiyfwpa3z37UHIYf-eEVWh6FGa6XFvik&q=
Monday 23 October 2023
19:15 - 20:00
https://www.everyoneactive.com/centre/Peckham-Pulse-Healthy-Living-Centre#activities
0
October
Monday
23
19:15 - 20:00
-1
https://www.google.com/maps/embed/v1/place?key=AIzaSyDqiyfwpa3z37UHIYf-eEVWh6FGa6XFvik&q=
Tuesday 24 October 2023
09:15 - 10:00
https://www.everyoneactive.com/centre/Peckham-Pulse-Healthy-Living-Centre#activities
0
October
Tuesday
24
09:15 - 10:00
-1
https://www.google.com/maps/embed/v1/place?key=AIzaSyDqiyfwpa3z37UHIYf-eEVWh6FGa6XFvik&q=
Wednesday 25 October 2023
12:00 - 12:45
https://www.everyoneactive.com/centre/Peckham-Pulse-Healthy-Living-Centre#activities
0
October
Wednesday
25
12:00 - 12:45
-1
https://www.google.com/maps/embed/v1/place?key=AIzaSyDqiyfwpa3z37UHIYf-eEVWh6FGa6XFvik&q=
Thursday 26 October 2023
10:15 - 11:00
https://www.everyoneactive.com/centre/Peckham-Pulse-Healthy-Living-Centre#activities
0
October
Thursday
26
10:15 - 11:00
-1
https://www.google.com/maps/embed/v1/place?key=AIzaSyDqiyfwpa3z37UHIYf-eEVWh6FGa6XFvik&q=
Friday 27 October 2023
09:15 - 10:00
https://www.everyoneactive.com/centre/Peckham-Pulse-Healthy-Living-Centre#activities
0
October
Friday
27
09:15 - 10:00
-1
https://www.google.com/maps/embed/v1/place?key=AIzaSyDqiyfwpa3z37UHIYf-eEVWh6FGa6XFvik&q=
Friday 27 October 2023
18:00 - 18:45
https://www.everyoneactive.com/centre/Peckham-Pulse-Healthy-Living-Centre#activities
0
October
Friday
27
18:00 - 18:45
-1
https://www.google.com/maps/embed/v1/place?key=AIzaSyDqiyfwpa3z37UHIYf-eEVWh6FGa6XFvik&q=
Saturday 28 October 2023
09:15 - 10:00
https://www.everyoneactive.com/centre/Peckham-Pulse-Healthy-Living-Centre#activities
0
October
Saturday
28
09:15 - 10:00
-1
https://www.google.com/maps/embed/v1/place?key=AIzaSyDqiyfwpa3z37UHIYf-eEVWh6FGa6XFvik&q=
Saturday 28 October 2023
10:30 - 11:15
https://www.everyoneactive.com/centre/Peckham-Pulse-Healthy-Living-Centre#activities
0
October
Saturday
28
10:30 - 11:15
-1
https://www.google.com/maps/embed/v1/place?key=AIzaSyDqiyfwpa3z37UHIYf-eEVWh6FGa6XFvik&q=
Monday 30 October 2023
10:45 - 11:30
https://www.everyoneactive.com/centre/Peckham-Pulse-Healthy-Living-Centre#activities
0
October
Monday
30
10:45 - 11:30
-1
https://www.google.com/maps/embed/v1/place?key=AIzaSyDqiyfwpa3z37UHIYf-eEVWh6FGa6XFvik&q=
Monday 30 October 2023
18:15 - 19:00
https://www.everyoneactive.com/centre/Peckham-Pulse-Healthy-Living-Centre#activities
0
October
Monday
30
18:15 - 19:00
-1
https://www.google.com/maps/embed/v1/place?key=AIzaSyDqiyfwpa3z37UHIYf-eEVWh6FGa6XFvik&q=
Monday 30 October 2023
19:15 - 20:00
https://www.everyoneactive.com/centre/Peckham-Pulse-Healthy-Living-Centre#activities
0
October
Monday
30
19:15 - 20:00
-1
https://www.google.com/maps/embed/v1/place?key=AIzaSyDqiyfwpa3z37UHIYf-eEVWh6FGa6XFvik&q=
Tuesday 31 October 2023
09:15 - 10:00
https://www.everyoneactive.com/centre/Peckham-Pulse-Healthy-Living-Centre#activities
0
October
Tuesday
31
09:15 - 10:00
-1
https://www.google.com/maps/embed/v1/place?key=AIzaSyDqiyfwpa3z37UHIYf-eEVWh6FGa6XFvik&q=
Wednesday 1 November 2023
12:00 - 12:45
https://www.everyoneactive.com/centre/Peckham-Pulse-Healthy-Living-Centre#activities
0
November
Wednesday
01
12:00 - 12:45
-1
https://www.google.com/maps/embed/v1/place?key=AIzaSyDqiyfwpa3z37UHIYf-eEVWh6FGa6XFvik&q=
Thursday 2 November 2023
10:15 - 11:00
https://www.everyoneactive.com/centre/Peckham-Pulse-Healthy-Living-Centre#activities
0
November
Thursday
02
10:15 - 11:00
-1
https://www.google.com/maps/embed/v1/place?key=AIzaSyDqiyfwpa3z37UHIYf-eEVWh6FGa6XFvik&q=
Friday 3 November 2023
09:15 - 10:00
https://www.everyoneactive.com/centre/Peckham-Pulse-Healthy-Living-Centre#activities
0
November
Friday
03
09:15 - 10:00
-1
https://www.google.com/maps/embed/v1/place?key=AIzaSyDqiyfwpa3z37UHIYf-eEVWh6FGa6XFvik&q=
Friday 3 November 2023
18:00 - 18:45
https://www.everyoneactive.com/centre/Peckham-Pulse-Healthy-Living-Centre#activities
0
November
Friday
03
18:00 - 18:45
-1
https://www.google.com/maps/embed/v1/place?key=AIzaSyDqiyfwpa3z37UHIYf-eEVWh6FGa6XFvik&q=
Saturday 4 November 2023
09:15 - 10:00
https://www.everyoneactive.com/centre/Peckham-Pulse-Healthy-Living-Centre#activities
0
November
Saturday
04
09:15 - 10:00
-1
https://www.google.com/maps/embed/v1/place?key=AIzaSyDqiyfwpa3z37UHIYf-eEVWh6FGa6XFvik&q=
Saturday 4 November 2023
10:30 - 11:15
https://www.everyoneactive.com/centre/Peckham-Pulse-Healthy-Living-Centre#activities
0
November
Saturday
04
10:30 - 11:15
-1
https://www.google.com/maps/embed/v1/place?key=AIzaSyDqiyfwpa3z37UHIYf-eEVWh6FGa6XFvik&q=
Monday 6 November 2023
10:45 - 11:30
https://www.everyoneactive.com/centre/Peckham-Pulse-Healthy-Living-Centre#activities
0
November
Monday
06
10:45 - 11:30
-1
https://www.google.com/maps/embed/v1/place?key=AIzaSyDqiyfwpa3z37UHIYf-eEVWh6FGa6XFvik&q=
Monday 6 November 2023
18:15 - 19:00
https://www.everyoneactive.com/centre/Peckham-Pulse-Healthy-Living-Centre#activities
0
November
Monday
06
18:15 - 19:00
-1
https://www.google.com/maps/embed/v1/place?key=AIzaSyDqiyfwpa3z37UHIYf-eEVWh6FGa6XFvik&q=
Monday 6 November 2023
19:15 - 20:00
https://www.everyoneactive.com/centre/Peckham-Pulse-Healthy-Living-Centre#activities
0
November
Monday
06
19:15 - 20:00
-1
https://www.google.com/maps/embed/v1/place?key=AIzaSyDqiyfwpa3z37UHIYf-eEVWh6FGa6XFvik&q=
Tuesday 7 November 2023
09:15 - 10:00
https://www.everyoneactive.com/centre/Peckham-Pulse-Healthy-Living-Centre#activities
0
November
Tuesday
07
09:15 - 10:00
-1
https://www.google.com/maps/embed/v1/place?key=AIzaSyDqiyfwpa3z37UHIYf-eEVWh6FGa6XFvik&q=
Wednesday 8 November 2023
12:00 - 12:45
https://www.everyoneactive.com/centre/Peckham-Pulse-Healthy-Living-Centre#activities
0
November
Wednesday
08
12:00 - 12:45
-1
https://www.google.com/maps/embed/v1/place?key=AIzaSyDqiyfwpa3z37UHIYf-eEVWh6FGa6XFvik&q=
Thursday 9 November 2023
10:15 - 11:00
https://www.everyoneactive.com/centre/Peckham-Pulse-Healthy-Living-Centre#activities
0
November
Thursday
09
10:15 - 11:00
-1
https://www.google.com/maps/embed/v1/place?key=AIzaSyDqiyfwpa3z37UHIYf-eEVWh6FGa6XFvik&q=
Friday 10 November 2023
09:15 - 10:00
https://www.everyoneactive.com/centre/Peckham-Pulse-Healthy-Living-Centre#activities
0
November
Friday
10
09:15 - 10:00
-1
https://www.google.com/maps/embed/v1/place?key=AIzaSyDqiyfwpa3z37UHIYf-eEVWh6FGa6XFvik&q=
Friday 10 November 2023
18:00 - 18:45
https://www.everyoneactive.com/centre/Peckham-Pulse-Healthy-Living-Centre#activities
0
November
Friday
10
18:00 - 18:45
-1
https://www.google.com/maps/embed/v1/place?key=AIzaSyDqiyfwpa3z37UHIYf-eEVWh6FGa6XFvik&q=
Saturday 11 November 2023
09:15 - 10:00
https://www.everyoneactive.com/centre/Peckham-Pulse-Healthy-Living-Centre#activities
0
November
Saturday
11
09:15 - 10:00
-1
https://www.google.com/maps/embed/v1/place?key=AIzaSyDqiyfwpa3z37UHIYf-eEVWh6FGa6XFvik&q=
Saturday 11 November 2023
10:30 - 11:15
https://www.everyoneactive.com/centre/Peckham-Pulse-Healthy-Living-Centre#activities
0
November
Saturday
11
10:30 - 11:15
-1
https://www.google.com/maps/embed/v1/place?key=AIzaSyDqiyfwpa3z37UHIYf-eEVWh6FGa6XFvik&q=
Monday 13 November 2023
10:45 - 11:30
https://www.everyoneactive.com/centre/Peckham-Pulse-Healthy-Living-Centre#activities
0
November
Monday
13
10:45 - 11:30
-1
https://www.google.com/maps/embed/v1/place?key=AIzaSyDqiyfwpa3z37UHIYf-eEVWh6FGa6XFvik&q=
Monday 13 November 2023
18:15 - 19:00
https://www.everyoneactive.com/centre/Peckham-Pulse-Healthy-Living-Centre#activities
0
November
Monday
13
18:15 - 19:00
-1
https://www.google.com/maps/embed/v1/place?key=AIzaSyDqiyfwpa3z37UHIYf-eEVWh6FGa6XFvik&q=
Monday 13 November 2023
19:15 - 20:00
https://www.everyoneactive.com/centre/Peckham-Pulse-Healthy-Living-Centre#activities
0
November
Monday
13
19:15 - 20:00
-1
https://www.google.com/maps/embed/v1/place?key=AIzaSyDqiyfwpa3z37UHIYf-eEVWh6FGa6XFvik&q=
Tuesday 14 November 2023
09:15 - 10:00
https://www.everyoneactive.com/centre/Peckham-Pulse-Healthy-Living-Centre#activities
0
November
Tuesday
14
09:15 - 10:00
-1
https://www.google.com/maps/embed/v1/place?key=AIzaSyDqiyfwpa3z37UHIYf-eEVWh6FGa6XFvik&q=
Wednesday 15 November 2023
12:00 - 12:45
https://www.everyoneactive.com/centre/Peckham-Pulse-Healthy-Living-Centre#activities
0
November
Wednesday
15
12:00 - 12:45
-1
https://www.google.com/maps/embed/v1/place?key=AIzaSyDqiyfwpa3z37UHIYf-eEVWh6FGa6XFvik&q=
Thursday 16 November 2023
10:15 - 11:00
https://www.everyoneactive.com/centre/Peckham-Pulse-Healthy-Living-Centre#activities
0
November
Thursday
16
10:15 - 11:00
-1
https://www.google.com/maps/embed/v1/place?key=AIzaSyDqiyfwpa3z37UHIYf-eEVWh6FGa6XFvik&q=
Friday 17 November 2023
09:15 - 10:00
https://www.everyoneactive.com/centre/Peckham-Pulse-Healthy-Living-Centre#activities
0
November
Friday
17
09:15 - 10:00
-1
https://www.google.com/maps/embed/v1/place?key=AIzaSyDqiyfwpa3z37UHIYf-eEVWh6FGa6XFvik&q=
Friday 17 November 2023
18:00 - 18:45
https://www.everyoneactive.com/centre/Peckham-Pulse-Healthy-Living-Centre#activities
0
November
Friday
17
18:00 - 18:45
-1
https://www.google.com/maps/embed/v1/place?key=AIzaSyDqiyfwpa3z37UHIYf-eEVWh6FGa6XFvik&q=
Saturday 18 November 2023
09:15 - 10:00
https://www.everyoneactive.com/centre/Peckham-Pulse-Healthy-Living-Centre#activities
0
November
Saturday
18
09:15 - 10:00
-1
https://www.google.com/maps/embed/v1/place?key=AIzaSyDqiyfwpa3z37UHIYf-eEVWh6FGa6XFvik&q=
Saturday 18 November 2023
10:30 - 11:15
https://www.everyoneactive.com/centre/Peckham-Pulse-Healthy-Living-Centre#activities
0
November
Saturday
18
10:30 - 11:15
-1
https://www.google.com/maps/embed/v1/place?key=AIzaSyDqiyfwpa3z37UHIYf-eEVWh6FGa6XFvik&q=
Monday 20 November 2023
10:45 - 11:30
https://www.everyoneactive.com/centre/Peckham-Pulse-Healthy-Living-Centre#activities
0
November
Monday
20
10:45 - 11:30
-1
https://www.google.com/maps/embed/v1/place?key=AIzaSyDqiyfwpa3z37UHIYf-eEVWh6FGa6XFvik&q=
Monday 20 November 2023
18:15 - 19:00
https://www.everyoneactive.com/centre/Peckham-Pulse-Healthy-Living-Centre#activities
0
November
Monday
20
18:15 - 19:00
-1
https://www.google.com/maps/embed/v1/place?key=AIzaSyDqiyfwpa3z37UHIYf-eEVWh6FGa6XFvik&q=
Monday 20 November 2023
19:15 - 20:00
https://www.everyoneactive.com/centre/Peckham-Pulse-Healthy-Living-Centre#activities
0
November
Monday
20
19:15 - 20:00
-1
https://www.google.com/maps/embed/v1/place?key=AIzaSyDqiyfwpa3z37UHIYf-eEVWh6FGa6XFvik&q=
Tuesday 21 November 2023
09:15 - 10:00
https://www.everyoneactive.com/centre/Peckham-Pulse-Healthy-Living-Centre#activities
0
November
Tuesday
21
09:15 - 10:00
-1
https://www.google.com/maps/embed/v1/place?key=AIzaSyDqiyfwpa3z37UHIYf-eEVWh6FGa6XFvik&q=
Wednesday 22 November 2023
12:00 - 12:45
https://www.everyoneactive.com/centre/Peckham-Pulse-Healthy-Living-Centre#activities
0
November
Wednesday
22
12:00 - 12:45
-1
https://www.google.com/maps/embed/v1/place?key=AIzaSyDqiyfwpa3z37UHIYf-eEVWh6FGa6XFvik&q=
Thursday 23 November 2023
10:15 - 11:00
https://www.everyoneactive.com/centre/Peckham-Pulse-Healthy-Living-Centre#activities
0
November
Thursday
23
10:15 - 11:00
-1
https://www.google.com/maps/embed/v1/place?key=AIzaSyDqiyfwpa3z37UHIYf-eEVWh6FGa6XFvik&q=
Friday 24 November 2023
09:15 - 10:00
https://www.everyoneactive.com/centre/Peckham-Pulse-Healthy-Living-Centre#activities
0
November
Friday
24
09:15 - 10:00
-1
https://www.google.com/maps/embed/v1/place?key=AIzaSyDqiyfwpa3z37UHIYf-eEVWh6FGa6XFvik&q=
Friday 24 November 2023
18:00 - 18:45
https://www.everyoneactive.com/centre/Peckham-Pulse-Healthy-Living-Centre#activities
0
November
Friday
24
18:00 - 18:45
-1
https://www.google.com/maps/embed/v1/place?key=AIzaSyDqiyfwpa3z37UHIYf-eEVWh6FGa6XFvik&q=
Saturday 25 November 2023
09:15 - 10:00
https://www.everyoneactive.com/centre/Peckham-Pulse-Healthy-Living-Centre#activities
0
November
Saturday
25
09:15 - 10:00
-1
https://www.google.com/maps/embed/v1/place?key=AIzaSyDqiyfwpa3z37UHIYf-eEVWh6FGa6XFvik&q=
Saturday 25 November 2023
10:30 - 11:15
https://www.everyoneactive.com/centre/Peckham-Pulse-Healthy-Living-Centre#activities
0
November
Saturday
25
10:30 - 11:15
-1
https://www.google.com/maps/embed/v1/place?key=AIzaSyDqiyfwpa3z37UHIYf-eEVWh6FGa6XFvik&q=
Monday 27 November 2023
10:45 - 11:30
https://www.everyoneactive.com/centre/Peckham-Pulse-Healthy-Living-Centre#activities
0
November
Monday
27
10:45 - 11:30
-1
https://www.google.com/maps/embed/v1/place?key=AIzaSyDqiyfwpa3z37UHIYf-eEVWh6FGa6XFvik&q=
Monday 27 November 2023
18:15 - 19:00
https://www.everyoneactive.com/centre/Peckham-Pulse-Healthy-Living-Centre#activities
0
November
Monday
27
18:15 - 19:00
-1
https://www.google.com/maps/embed/v1/place?key=AIzaSyDqiyfwpa3z37UHIYf-eEVWh6FGa6XFvik&q=
Monday 27 November 2023
19:15 - 20:00
https://www.everyoneactive.com/centre/Peckham-Pulse-Healthy-Living-Centre#activities
0
November
Monday
27
19:15 - 20:00
-1
https://www.google.com/maps/embed/v1/place?key=AIzaSyDqiyfwpa3z37UHIYf-eEVWh6FGa6XFvik&q=
Tuesday 28 November 2023
09:15 - 10:00
https://www.everyoneactive.com/centre/Peckham-Pulse-Healthy-Living-Centre#activities
0
November
Tuesday
28
09:15 - 10:00
-1
https://www.google.com/maps/embed/v1/place?key=AIzaSyDqiyfwpa3z37UHIYf-eEVWh6FGa6XFvik&q=
Wednesday 29 November 2023
12:00 - 12:45
https://www.everyoneactive.com/centre/Peckham-Pulse-Healthy-Living-Centre#activities
0
November
Wednesday
29
12:00 - 12:45
-1
https://www.google.com/maps/embed/v1/place?key=AIzaSyDqiyfwpa3z37UHIYf-eEVWh6FGa6XFvik&q=
Thursday 30 November 2023
10:15 - 11:00
https://www.everyoneactive.com/centre/Peckham-Pulse-Healthy-Living-Centre#activities
0
November
Thursday
30
10:15 - 11:00
-1
https://www.google.com/maps/embed/v1/place?key=AIzaSyDqiyfwpa3z37UHIYf-eEVWh6FGa6XFvik&q=
Friday 1 December 2023
09:15 - 10:00
https://www.everyoneactive.com/centre/Peckham-Pulse-Healthy-Living-Centre#activities
0
December
Friday
01
09:15 - 10:00
-1
https://www.google.com/maps/embed/v1/place?key=AIzaSyDqiyfwpa3z37UHIYf-eEVWh6FGa6XFvik&q=
Friday 1 December 2023
18:00 - 18:45
https://www.everyoneactive.com/centre/Peckham-Pulse-Healthy-Living-Centre#activities
0
December
Friday
01
18:00 - 18:45
-1
https://www.google.com/maps/embed/v1/place?key=AIzaSyDqiyfwpa3z37UHIYf-eEVWh6FGa6XFvik&q=
Saturday 2 December 2023
09:15 - 10:00
https://www.everyoneactive.com/centre/Peckham-Pulse-Healthy-Living-Centre#activities
0
December
Saturday
02
09:15 - 10:00
-1
https://www.google.com/maps/embed/v1/place?key=AIzaSyDqiyfwpa3z37UHIYf-eEVWh6FGa6XFvik&q=
Saturday 2 December 2023
10:30 - 11:15
https://www.everyoneactive.com/centre/Peckham-Pulse-Healthy-Living-Centre#activities
0
December
Saturday
02
10:30 - 11:15
-1
https://www.google.com/maps/embed/v1/place?key=AIzaSyDqiyfwpa3z37UHIYf-eEVWh6FGa6XFvik&q=
Monday 4 December 2023
10:45 - 11:30
https://www.everyoneactive.com/centre/Peckham-Pulse-Healthy-Living-Centre#activities
0
December
Monday
04
10:45 - 11:30
-1
https://www.google.com/maps/embed/v1/place?key=AIzaSyDqiyfwpa3z37UHIYf-eEVWh6FGa6XFvik&q=
Monday 4 December 2023
18:15 - 19:00
https://www.everyoneactive.com/centre/Peckham-Pulse-Healthy-Living-Centre#activities
0
December
Monday
04
18:15 - 19:00
-1
https://www.google.com/maps/embed/v1/place?key=AIzaSyDqiyfwpa3z37UHIYf-eEVWh6FGa6XFvik&q=
Monday 4 December 2023
19:15 - 20:00
https://www.everyoneactive.com/centre/Peckham-Pulse-Healthy-Living-Centre#activities
0
December
Monday
04
19:15 - 20:00
-1
https://www.google.com/maps/embed/v1/place?key=AIzaSyDqiyfwpa3z37UHIYf-eEVWh6FGa6XFvik&q=
Tuesday 5 December 2023
09:15 - 10:00
https://www.everyoneactive.com/centre/Peckham-Pulse-Healthy-Living-Centre#activities
0
December
Tuesday
05
09:15 - 10:00
-1
https://www.google.com/maps/embed/v1/place?key=AIzaSyDqiyfwpa3z37UHIYf-eEVWh6FGa6XFvik&q=
Wednesday 6 December 2023
12:00 - 12:45
https://www.everyoneactive.com/centre/Peckham-Pulse-Healthy-Living-Centre#activities
0
December
Wednesday
06
12:00 - 12:45
-1
https://www.google.com/maps/embed/v1/place?key=AIzaSyDqiyfwpa3z37UHIYf-eEVWh6FGa6XFvik&q=
Thursday 7 December 2023
10:15 - 11:00
https://www.everyoneactive.com/centre/Peckham-Pulse-Healthy-Living-Centre#activities
0
December
Thursday
07
10:15 - 11:00
-1
https://www.google.com/maps/embed/v1/place?key=AIzaSyDqiyfwpa3z37UHIYf-eEVWh6FGa6XFvik&q=
Friday 8 December 2023
09:15 - 10:00
https://www.everyoneactive.com/centre/Peckham-Pulse-Healthy-Living-Centre#activities
0
December
Friday
08
09:15 - 10:00
-1
https://www.google.com/maps/embed/v1/place?key=AIzaSyDqiyfwpa3z37UHIYf-eEVWh6FGa6XFvik&q=
Friday 8 December 2023
18:00 - 18:45
https://www.everyoneactive.com/centre/Peckham-Pulse-Healthy-Living-Centre#activities
0
December
Friday
08
18:00 - 18:45
-1
https://www.google.com/maps/embed/v1/place?key=AIzaSyDqiyfwpa3z37UHIYf-eEVWh6FGa6XFvik&q=
Saturday 9 December 2023
09:15 - 10:00
https://www.everyoneactive.com/centre/Peckham-Pulse-Healthy-Living-Centre#activities
0
December
Saturday
09
09:15 - 10:00
-1
https://www.google.com/maps/embed/v1/place?key=AIzaSyDqiyfwpa3z37UHIYf-eEVWh6FGa6XFvik&q=
Saturday 9 December 2023
10:30 - 11:15
https://www.everyoneactive.com/centre/Peckham-Pulse-Healthy-Living-Centre#activities
0
December
Saturday
09
10:30 - 11:15
-1
https://www.google.com/maps/embed/v1/place?key=AIzaSyDqiyfwpa3z37UHIYf-eEVWh6FGa6XFvik&q=
Monday 11 December 2023
10:45 - 11:30
https://www.everyoneactive.com/centre/Peckham-Pulse-Healthy-Living-Centre#activities
0
December
Monday
11
10:45 - 11:30
-1
https://www.google.com/maps/embed/v1/place?key=AIzaSyDqiyfwpa3z37UHIYf-eEVWh6FGa6XFvik&q=
Monday 11 December 2023
18:15 - 19:00
https://www.everyoneactive.com/centre/Peckham-Pulse-Healthy-Living-Centre#activities
0
December
Monday
11
18:15 - 19:00
-1
https://www.google.com/maps/embed/v1/place?key=AIzaSyDqiyfwpa3z37UHIYf-eEVWh6FGa6XFvik&q=
Monday 11 December 2023
19:15 - 20:00
https://www.everyoneactive.com/centre/Peckham-Pulse-Healthy-Living-Centre#activities
0
December
Monday
11
19:15 - 20:00
-1
https://www.google.com/maps/embed/v1/place?key=AIzaSyDqiyfwpa3z37UHIYf-eEVWh6FGa6XFvik&q=
Tuesday 12 December 2023
09:15 - 10:00
https://www.everyoneactive.com/centre/Peckham-Pulse-Healthy-Living-Centre#activities
0
December
Tuesday
12
09:15 - 10:00
-1
https://www.google.com/maps/embed/v1/place?key=AIzaSyDqiyfwpa3z37UHIYf-eEVWh6FGa6XFvik&q=
Wednesday 13 December 2023
12:00 - 12:45
https://www.everyoneactive.com/centre/Peckham-Pulse-Healthy-Living-Centre#activities
0
December
Wednesday
13
12:00 - 12:45
-1
https://www.google.com/maps/embed/v1/place?key=AIzaSyDqiyfwpa3z37UHIYf-eEVWh6FGa6XFvik&q=
Thursday 14 December 2023
10:15 - 11:00
https://www.everyoneactive.com/centre/Peckham-Pulse-Healthy-Living-Centre#activities
0
December
Thursday
14
10:15 - 11:00
-1
https://www.google.com/maps/embed/v1/place?key=AIzaSyDqiyfwpa3z37UHIYf-eEVWh6FGa6XFvik&q=
Friday 15 December 2023
09:15 - 10:00
https://www.everyoneactive.com/centre/Peckham-Pulse-Healthy-Living-Centre#activities
0
December
Friday
15
09:15 - 10:00
-1
https://www.google.com/maps/embed/v1/place?key=AIzaSyDqiyfwpa3z37UHIYf-eEVWh6FGa6XFvik&q=
Friday 15 December 2023
18:00 - 18:45
https://www.everyoneactive.com/centre/Peckham-Pulse-Healthy-Living-Centre#activities
0
December
Friday
15
18:00 - 18:45
-1
https://www.google.com/maps/embed/v1/place?key=AIzaSyDqiyfwpa3z37UHIYf-eEVWh6FGa6XFvik&q=
Saturday 16 December 2023
09:15 - 10:00
https://www.everyoneactive.com/centre/Peckham-Pulse-Healthy-Living-Centre#activities
0
December
Saturday
16
09:15 - 10:00
-1
https://www.google.com/maps/embed/v1/place?key=AIzaSyDqiyfwpa3z37UHIYf-eEVWh6FGa6XFvik&q=
Saturday 16 December 2023
10:30 - 11:15
https://www.everyoneactive.com/centre/Peckham-Pulse-Healthy-Living-Centre#activities
0
December
Saturday
16
10:30 - 11:15
-1
https://www.google.com/maps/embed/v1/place?key=AIzaSyDqiyfwpa3z37UHIYf-eEVWh6FGa6XFvik&q=
Monday 18 December 2023
10:45 - 11:30
https://www.everyoneactive.com/centre/Peckham-Pulse-Healthy-Living-Centre#activities
0
December
Monday
18
10:45 - 11:30
-1
https://www.google.com/maps/embed/v1/place?key=AIzaSyDqiyfwpa3z37UHIYf-eEVWh6FGa6XFvik&q=
Monday 18 December 2023
18:15 - 19:00
https://www.everyoneactive.com/centre/Peckham-Pulse-Healthy-Living-Centre#activities
0
December
Monday
18
18:15 - 19:00
-1
https://www.google.com/maps/embed/v1/place?key=AIzaSyDqiyfwpa3z37UHIYf-eEVWh6FGa6XFvik&q=
Monday 18 December 2023
19:15 - 20:00
https://www.everyoneactive.com/centre/Peckham-Pulse-Healthy-Living-Centre#activities
0
December
Monday
18
19:15 - 20:00
-1
https://www.google.com/maps/embed/v1/place?key=AIzaSyDqiyfwpa3z37UHIYf-eEVWh6FGa6XFvik&q=
Tuesday 19 December 2023
09:15 - 10:00
https://www.everyoneactive.com/centre/Peckham-Pulse-Healthy-Living-Centre#activities
0
December
Tuesday
19
09:15 - 10:00
-1
https://www.google.com/maps/embed/v1/place?key=AIzaSyDqiyfwpa3z37UHIYf-eEVWh6FGa6XFvik&q=
Wednesday 20 December 2023
12:00 - 12:45
https://www.everyoneactive.com/centre/Peckham-Pulse-Healthy-Living-Centre#activities
0
December
Wednesday
20
12:00 - 12:45
-1
https://www.google.com/maps/embed/v1/place?key=AIzaSyDqiyfwpa3z37UHIYf-eEVWh6FGa6XFvik&q=
Thursday 21 December 2023
10:15 - 11:00
https://www.everyoneactive.com/centre/Peckham-Pulse-Healthy-Living-Centre#activities
0
December
Thursday
21
10:15 - 11:00
-1
https://www.google.com/maps/embed/v1/place?key=AIzaSyDqiyfwpa3z37UHIYf-eEVWh6FGa6XFvik&q=
Friday 22 December 2023
09:15 - 10:00
https://www.everyoneactive.com/centre/Peckham-Pulse-Healthy-Living-Centre#activities
0
December
Friday
22
09:15 - 10:00
-1
https://www.google.com/maps/embed/v1/place?key=AIzaSyDqiyfwpa3z37UHIYf-eEVWh6FGa6XFvik&q=
Friday 22 December 2023
18:00 - 18:45
https://www.everyoneactive.com/centre/Peckham-Pulse-Healthy-Living-Centre#activities
0
December
Friday
22
18:00 - 18:45
-1
https://www.google.com/maps/embed/v1/place?key=AIzaSyDqiyfwpa3z37UHIYf-eEVWh6FGa6XFvik&q=
Saturday 23 December 2023
09:15 - 10:00
https://www.everyoneactive.com/centre/Peckham-Pulse-Healthy-Living-Centre#activities
0
December
Saturday
23
09:15 - 10:00
-1
https://www.google.com/maps/embed/v1/place?key=AIzaSyDqiyfwpa3z37UHIYf-eEVWh6FGa6XFvik&q=
Saturday 23 December 2023
10:30 - 11:15
https://www.everyoneactive.com/centre/Peckham-Pulse-Healthy-Living-Centre#activities
0
December
Saturday
23
10:30 - 11:15
-1
https://www.google.com/maps/embed/v1/place?key=AIzaSyDqiyfwpa3z37UHIYf-eEVWh6FGa6XFvik&q=
Monday 25 December 2023
10:45 - 11:30
https://www.everyoneactive.com/centre/Peckham-Pulse-Healthy-Living-Centre#activities
0
December
Monday
25
10:45 - 11:30
-1
https://www.google.com/maps/embed/v1/place?key=AIzaSyDqiyfwpa3z37UHIYf-eEVWh6FGa6XFvik&q=
Monday 25 December 2023
18:15 - 19:00
https://www.everyoneactive.com/centre/Peckham-Pulse-Healthy-Living-Centre#activities
0
December
Monday
25
18:15 - 19:00
-1
https://www.google.com/maps/embed/v1/place?key=AIzaSyDqiyfwpa3z37UHIYf-eEVWh6FGa6XFvik&q=
Monday 25 December 2023
19:15 - 20:00
https://www.everyoneactive.com/centre/Peckham-Pulse-Healthy-Living-Centre#activities
0
December
Monday
25
19:15 - 20:00
-1
https://www.google.com/maps/embed/v1/place?key=AIzaSyDqiyfwpa3z37UHIYf-eEVWh6FGa6XFvik&q=
Tuesday 26 December 2023
09:15 - 10:00
https://www.everyoneactive.com/centre/Peckham-Pulse-Healthy-Living-Centre#activities
0
December
Tuesday
26
09:15 - 10:00
-1
https://www.google.com/maps/embed/v1/place?key=AIzaSyDqiyfwpa3z37UHIYf-eEVWh6FGa6XFvik&q=
Wednesday 27 December 2023
12:00 - 12:45
https://www.everyoneactive.com/centre/Peckham-Pulse-Healthy-Living-Centre#activities
0
December
Wednesday
27
12:00 - 12:45
-1
https://www.google.com/maps/embed/v1/place?key=AIzaSyDqiyfwpa3z37UHIYf-eEVWh6FGa6XFvik&q=
Thursday 28 December 2023
10:15 - 11:00
https://www.everyoneactive.com/centre/Peckham-Pulse-Healthy-Living-Centre#activities
0
December
Thursday
28
10:15 - 11:00
-1
https://www.google.com/maps/embed/v1/place?key=AIzaSyDqiyfwpa3z37UHIYf-eEVWh6FGa6XFvik&q=
Friday 29 December 2023
09:15 - 10:00
https://www.everyoneactive.com/centre/Peckham-Pulse-Healthy-Living-Centre#activities
0
December
Friday
29
09:15 - 10:00
-1
https://www.google.com/maps/embed/v1/place?key=AIzaSyDqiyfwpa3z37UHIYf-eEVWh6FGa6XFvik&q=
Friday 29 December 2023
18:00 - 18:45
https://www.everyoneactive.com/centre/Peckham-Pulse-Healthy-Living-Centre#activities
0
December
Friday
29
18:00 - 18:45
-1
https://www.google.com/maps/embed/v1/place?key=AIzaSyDqiyfwpa3z37UHIYf-eEVWh6FGa6XFvik&q=
Saturday 30 December 2023
09:15 - 10:00
https://www.everyoneactive.com/centre/Peckham-Pulse-Healthy-Living-Centre#activities
0
December
Saturday
30
09:15 - 10:00
-1
https://www.google.com/maps/embed/v1/place?key=AIzaSyDqiyfwpa3z37UHIYf-eEVWh6FGa6XFvik&q=
Saturday 30 December 2023
10:30 - 11:15
https://www.everyoneactive.com/centre/Peckham-Pulse-Healthy-Living-Centre#activities
0
December
Saturday
30
10:30 - 11:15
-1
https://www.google.com/maps/embed/v1/place?key=AIzaSyDqiyfwpa3z37UHIYf-eEVWh6FGa6XFvik&q=
Monday 1 January 2024
10:45 - 11:30
https://www.everyoneactive.com/centre/Peckham-Pulse-Healthy-Living-Centre#activities
0
January
Monday
01
10:45 - 11:30
-1
https://www.google.com/maps/embed/v1/place?key=AIzaSyDqiyfwpa3z37UHIYf-eEVWh6FGa6XFvik&q=
Monday 1 January 2024
18:15 - 19:00
https://www.everyoneactive.com/centre/Peckham-Pulse-Healthy-Living-Centre#activities
0
January
Monday
01
18:15 - 19:00
-1
https://www.google.com/maps/embed/v1/place?key=AIzaSyDqiyfwpa3z37UHIYf-eEVWh6FGa6XFvik&q=
Monday 1 January 2024
19:15 - 20:00
https://www.everyoneactive.com/centre/Peckham-Pulse-Healthy-Living-Centre#activities
0
January
Monday
01
19:15 - 20:00
-1
https://www.google.com/maps/embed/v1/place?key=AIzaSyDqiyfwpa3z37UHIYf-eEVWh6FGa6XFvik&q=
Tuesday 2 January 2024
09:15 - 10:00
https://www.everyoneactive.com/centre/Peckham-Pulse-Healthy-Living-Centre#activities
0
January
Tuesday
02
09:15 - 10:00
Peckham Pulse Healthy Living Centre | 10 Melon Road, London, SE15 5QN
Get Directions